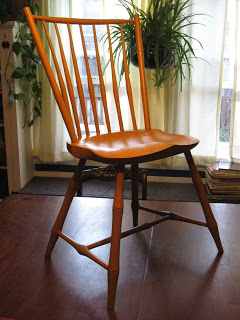 I finished the rodback chair. I used mustard Real Milk Paint with the anti-foaming agent, and I'm still very happy with the results. I didn't use an under coat of the Butternut Squash, as I did on the perch, but this chair surprisingly turned out a bit more orange than the perch.
This is a really comfortable chair. I really like the feel of the deeply carved seat. Overall I'm very happy with the way it turned out, despite the mishaps.
I used epoxy to fill the crack in the seat as well as I could. Unfortunately it didn't fill completely, but I'm confident it'll be strong enough. The sawdust-filled epoxy seems to hold paint well enough, but it expands and contracts differently than the surrounding wood, so it does stand out a bit.
There was another unforseeable circumstance that set things back slightly. I used two different woods when making spindles, and one of the spindles I chose for this seat was made from the yellow/green wood I haven't identified. When the first coat of paint dried, that spindle stuck out like a sore thumb: it turned dark brown, almost black!
So that spindle has several more coats of paint than the others, just to turn it yellow. It's not a perfect match for the rest, but it's close enough. I have a bunch more of this wood, and it seems to be turning brown on the outer surface as it ages. Probably something in the milk paint just accelerated that process. Now I'm not sure what I want to do: I'd like to use the spindles, but I'd rather not have to add 5 coats of paint to all of them. Maybe I should use a darker color, but then I wouldn't have matching chairs.
On all of the pine seats I've painted recently, there are tiny surface cracks in the paint. I think this may be related to tiny pockets of pine pitch in the wood. I think it looks basically fine, the paint hasn't chipped on any of them. Peter Galbert heats his seats and washes them with naptha to avoid problems with pitch.
This one is marked "Alan Ferrency 2009 4" on the bottom of the seat. I must say, I didn't expect to make 4 chairs, even stools, in the same year! And there may be more to come.