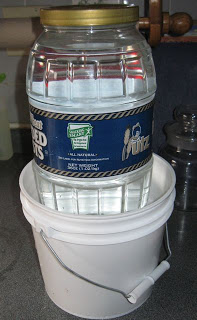 What? A post that isn't about games? Weird.
On the way home from Fall-In (obligatory gaming reference), I picked up some home made Sauerkraut at a farm stand. I mentioned to JM "I like live food. Well, as long as it's small enough that it won't run away." It was pretty good sauerkraut, and it reminded me that I wanted to try making my own. Apparently lots of people are doing this these days, but I hadn't done it yet.


After finding a suitable bucket (Thanks, Brigid and Ross!) I'm good to go. This one gallon bucket seems to be the perfect size for one large head of cabbage. The container of water is a weight to press the liquid out of the cabbage… not much to see here.


I'll update in a while when I see how it's coming along.