Feudal Spanish Knights; Old Glory 15mm
I finished the Feudal Spanish army I bought from Tony Aguilar via Fanaticus. I'm quite happy with the way the army turned out, and I particularly enjoyed the painting process I used for this army.
These are all 15mm Old Glory figures. I'm happy with the figure selection: Thanks, Tony!
Feudal Spanish Cavalry; Old Glory 15mm
We went on vacation for the first week of August, and I decided to take a painting project. These Spanish were cleaned and primed but I hadn't started painting them yet. I knew the basic color scheme I wanted to use, so I put together a limited set of paints and used only those colors to paint the figures. It was an interesting change to work from a more limited color palette.
I also didn't bring any research materials with me, and I was mostly without Internet for the week. The only reference I looked up while I was on vacation was getting an idea of Andalusian shield patterns. This is why some of the shields and smaller flags have yellow stripes on a red field instead of red stripes on a yellow field.
It felt liberating working under these self-imposed restrictions… some might even call it a "plan." I finished the painting with a few days left over, and lamented the fact that I didn't bring a second army to start painting.
Allied light horse; Old Glory 15mm
The General's stand is flying the colors of Aragon and/or Catalonia. As far as I know, these figures slightly predate the age of heraldry, so shield patterns were primarily decorative and not hereditary insignia.
Feudal Spanish spearmen; Old Glory 15mm
I have a lot of red, white, and yellow armies, and plans for more. I didn't want the Spanish to have the same general look as my other armies, so I emphasized the yellow more than I've seen on other Feudal Spanish armies. I also colored most of the cloth in various shades of excrement and detritus, instead of using cleanly dyed colors. Overall I like the greater contrast here between the colorful shields and flags and the bland natural colors.
I hadn't painted any Old Glory 15mm figures before I did this army. I like the variety of poses available without overly dramatic, active posing. The sculpting isn't bad, but it's not the best I've seen, either. The figures are a bit smaller than Essex, which is fine with me: the horses actually fit on the bases.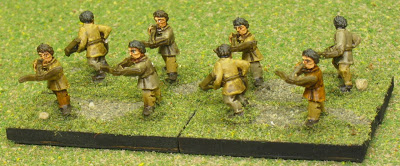 Feudal Spanish Psiloi; Old Glory 15mm
The spears are basically square, which is a bit weird. They require a bit more cleaning than other manufacturers' figures, but not dramatically so. The main drawback I see is that Old Glory 15s come in packs of 24, so it's often not cost effective to buy armies that have more than a few different element types, unless you're building a triple army.
I haven't played this army yet, so I don't know how it'll do. That's a lot of psiloi, but I like psiloi.