I haven't finished painting a DBA army since February? Weird. I blame it on the goblins.
I chose to paint a Mongol Conquest army to participate in the Baltic Crusades themed campaign event at Historicon 2010. This is a fairly one-dimensional army in this configuration: 3x3Cv, 9x2LH. The figures are Museum Miniatures from their Mongol line. I also purchased a traction trebuchet model from Museum for the artillery option, but it was way too huge to fit on a DBA base. A future update shows the alternate model I scratch built.
I used medium cavalry with swords and bows for the Cavalry elements. They're helmeted, but otherwise look very much like the light horse archers.
Painting this army was an exercise in finding all my different shades of brown paint. I used a grey-blue and dark red for highlights, based on images in the Osprey Mongol Warrior book.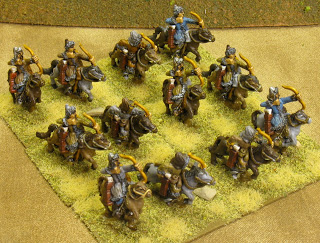 There are two cavalry poses (MG09BP, MG09CP) except for the general (MG01P) and standard bearer (MG02P), and three poses for the light horse archers (MG06P).
This will be another challenging army to play (along with the Skythians). Maybe I just like losing. I'm not very good at playing light horse armies yet, but I want to be.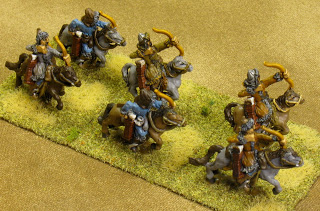 The surface of these figures is glossier than I prefer. This time I used a few base coats of semi-gloss varnish before topcoating with Dullcote. I probably should've waited longer before the dullcote layer.
My next DBA army is already in the works, so it won't be 2 months before that one's finished. I also need to paint one more army before Historicon for another theme.