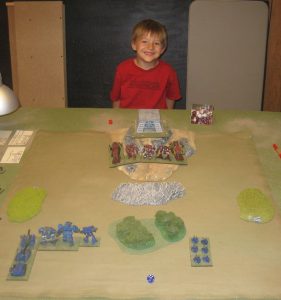 Ezra, about to start a game of Hordes of the Things.
My son Ezra is now 5 years old, and he has enjoyed playing games of all sorts for as long as he's been able to play. Here are some of the games we have enjoyed playing together so far.
He has a great capacity for learning game mechanics, and a long enough attention span to finish a game that he's truly interested in. Most of the time he's able to handle loss well enough to want to play again. The biggest challenge I've had in finding good games to play has been that he's only just starting to learn to read.
For now I'm limiting this list to games that adults can play with kids, and those that are surprisingly appropriate for children (or at least for Ezra) instead of the ones everyone knows work well with kids. This isn't a game review, and I won't be teaching how to play the games; but I will mention any changes we made to make the games more playable.
Cartagena
Carcassonne
Castle Panic
And our third entry in "Games that start with CA" is by far Ezra's favorite and most played game. At its height we were playing for hours on end, and I'd get sick of it before he did, but at this point he rarely maintains interest long enough to finish a session anymore.
HeroQuest
Heroica
Lionheart
Dune Express
Zombie Dice
Zombies!!!
Dungeon!
En Garde
Uno
Loot
The Sorceror's Cave
Wings of War
Hordes of the Things
I'll write more as we discover more games worth playing, but I expect we will soon start opening many more boxes once Ezra starts reading.