I painted this Early Polish army to be an ally of Early Russians in BBDBA. Unfortunately, JM didn't make it to Fall-In, so we haven't had a chance to use it yet.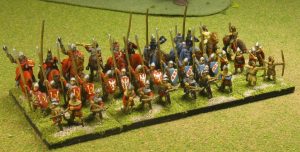 DBA army III/62b: Early Polish; Essex miniatures.
The figures are all Essex Miniatures except for the sword-wielding knights with crests, and the musician; those are Black Hat (Gladiator), I believe. This was not an army pack; JM chose all the Essex figures during the early part of the Wargames Miniatures Essex clearance sale.
For the heraldry, I spent a lot of time perusing a wonderful Polish heraldry web site. I especially like this easily browsable scan of a Polish heraldry catalog.
Although there are a lot of wonderful designs there, I like to tie the look of my army together so it's not too garish. I decided to divide the army into three houses, each with an element of knight, bow, and spear. The remaining elements used red highlights but otherwise didn't use any specific heraldry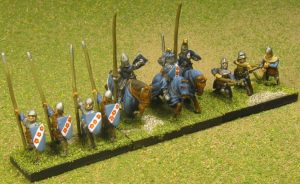 I had to make an attempt at the Polish national Dr. Seuss birds. Fo the others, I chose designs primarily for the way they looked, without any consideration for when they were used historically. I tried to choose designs different from designs I might use on my Serbian, Hungarian or other Eastern European armies. I left the red caparisons plain, but mirrored the triple rose heraldry on the blue caparisons.
This army painted up fairly quickly since it doesn't have any optional elements. I'm not sure when I'll use it. Lately, every army I paint up has been used less and less. I almost need to have a specific event to paint for, in order to ensure that every new army is used in at least 3 games.