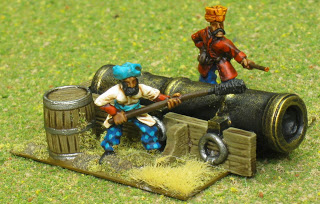 Say hello to my little friend! Museum miniatures.
I am only just getting around to photographing the random elements I painted up to bring to Historicon in July.
First are two bases I painted to use my Rajput Indian army in DBA-RRR.
The cannon is huge, and sticks off the front of the base. I didn't expect this to be a problem, since it's basically doomed if anything contacts it anyway. As with my other artillery crew figures from Museum Miniatures, these crew are way taller than the other figures in the same line.
Essex miniatures Rajput general for DBA-RRR
DBA-RRR allows the use of a separate general base if you want, so I painted one up. I like the way the shield turned out, and the more intricate design makes the individual figure stand out. He also almost always detached from his unit, since elephants are so fragile in DBA-RRR with cannons shooting 8″.
Baueda Viking tent
I finished this Baueda Viking tent as a camp for my Leidang army, and I expect to be painting a Viking army to use it with as well.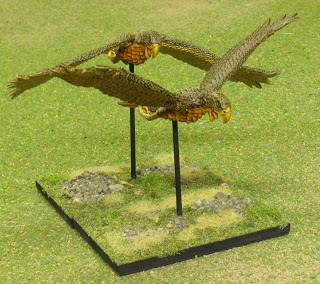 GW giant eagles, 28mm
At Cold Wars I picked up some more figures for my Hordes of the Things Elf army at the flea market. Here are two units of fliers: giant eagles from one of the Games Workshop Elf lines. I was happy to learn how to use fliers at Historicon. These figures originally had Elf riders, but they were too big for the eagles and didn't match the rest of my Elves, so I decided to remove them and build some more general-purpose flier elements.