I needed a stronghold for my Battle of Endor matched pair of armies for Hordes of the Things, so I made the obvious choice: the bunker that the rebels assaulted and then defended from an Imperial counterattack. With a bit of imagination it's usable by both sides, and it's pretty much the only thing attached to the surface of Endor that isn't a tree.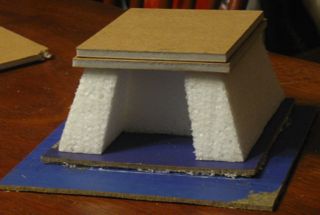 Here's a Work in Progress shot showing the basic construction. The main building is cut on the band saw from white foam. I cut three pieces at the right angles, and glued them back together. The roof is two pieces of foam core, and it's on a masonite base.
Next, I cut the door and vent-like shapes out of cardstock and glued them to the foam. On the roof I added some details made of some washers and bases I had lying around.
I measured a toy playset to get the dimensions of this, which may have been a bit of a mistake. The actual bunker had side walls that angled back into the hillside instead of a 90 degree angle. So, this isn't perfect, but it's easier to transport.
Also of note: stacking heavy books on foam squishes it. Who knew. It's a bit lopsided because of this, but the more obvious defects problems where the cardstock details buckled.