HOTT Mechwarrior: Foot based as hordes, obsolete.
At Cold Wars 2012, I purchased enough prepainted Mechwarrior miniatures to build a matched pair of HOTT armies: Red vs. Blue. I based them up for HOTT Matched Pairs at Historicon, using 25mm basing.
Initially, I based all foot as Hordes. After discussion with the Davids, we've decided this isn't the best troop categorization, so I rebased everything. Here are images of a few of the bases before I ripped the figures up and started over.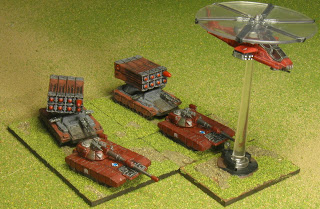 HOTT Mechwarrior: Knights are now on square bases.
At HOTT Matched Pairs, I took this matched pair:
Red:
Tanks: 3xKnight (gen)
Mechs: 3xBehemoth
Helicopter: 1xFlyer
Foot: 2xShooter
Blue:
Mechs: 2xBehemoth (gen)
Tanks: 2xKnight
GEVs: 3xRider
Helicopters: 2xFlyer
Mech: 1xSpear
HOTT Mechwarrior: Knights are now on square bases.
In three games, we used these armies twice. Both times, my opponent chose Red, and I ended up with Blue.
With these compositions, Red looks like it should be able to gain air superiority, due to its shooters and flyers outnumbering Blue's flyers. In practice, this didn't happen. In both games, the Red general put their shooters together, and I was able to attack somewhere else with my Flyers. I was able to destroy the enemy Flyer and avoid their shooters.
I won both games, and also the third, taking first place in the HOTT matched pairs tournament.