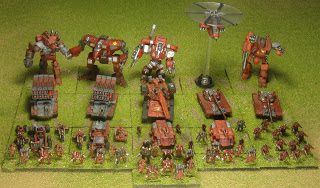 HOTT: Mechwarrior Red army.
So, I was playing in Hordes of the Things matched pairs with my Red vs. Blue armies, and David Schlanger got another chance to see them once they were based up. It just so happened that the flea market was open at that time… and that one of the vendors had a large stock of Mechwarrior figures available for sale.
Dave visited the flea market, and shortly came back to show off his purchase. "Look, I got an entire army for only $17! You should get some more foot bases, they're only 4 for $1!" And so it begins: Tag Team Enabling.
After my game was finished, I went to the flea market and ended up with an entire army, instead of only a few more bases. During the next game, Dave came back to show off his second complete army.
At that point, we had to drag David Kuijt into the mix if we were going to keep up our momentum. Unfortunately, it turned out we had already bought all 5 main factions. The solution was obvious: I sold my new army to David. Then, he and I both bought more figures for our own armies.
HOTT: Mechwarrior Blue army.
By the time the flea market was about to close, we had bought enough figures that the vendor started giving us mechs for free.
In the end, I now have over 48 points of both Red and Blue. There are still a few more figures I'd like to pick up: an airboat for the Blue army, and a few more aerial or anti-aerial units for Red. But I can find those from Internet sources without too much difficulty.
We're keeping track of our HOTT troop classifications on a wiki page. We'll update it as we discuss possible changes.
A summary of basing conventions: All vehicles are mounted, and infantry are foot. Tanks are knights; mechs can be behemoths, heroes, aerial heroes, or magicians as appropriate. Untracked vehicles are typically Riders, and ground based large guns are Shooters. Foot is either Blade or Warband.
I'm already enjoying teaching HOTT to Ezra as well as a friend and his son. For teaching a young player, I've limited element selection to only mounted elements to start with. Behemoths, Knights, Riders, and Heroes provide sufficiently interesting troop interactions. Since they're all mounted, it's a lot easier to remember all of the troop factors. As Ezra improves his abilities, I'll introduce more troop types.
I expect we'll see some Mechwarrior HOTT events at a future HMGS convention. In the mean time, I enjoy the opportunity to play more games with a new generation of opponents.