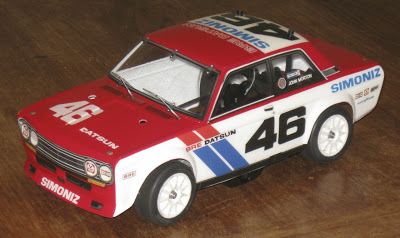 ABC Hobby BRE Datsun 510 #46 body on Tamiya M-05 chassis.
After smashing up the Honda S800 body too much, I got a replacement.  This is an ABC Hobby BRE Datsun 510, #46.  This one is closer to a 1/12 scale body, compared to the S800 and Mini bodies, which are 1/10 scale versions of smaller cars.
Brock Racing Enterprises (BRE) set up some Datsun 510's for racing, and entered them in the 1971 and 1972 Trans-Am "2.5 Challenge" for smaller engined cars.  Datsun destroyed the competition both years (though Alfa tried to cheat to avoid their fate in 1971), and the series was shut down when the European manufacturers picked up their toys and went home crying.
The body shown here also comes with bumpers and better headlights, but I decided not to use any of them since I expected to beat it up racing anyway.  Unfortunately I must have scored the body when trimming the paint mask, because it almost immediately split right up the left front corner between the red and white areas.
Fitting the body over the wheels was a bit challenging, and required some creative trimming around the wheel wells to keep it from rubbing around corners.  Unfortunately the M-05 battery compartment pushes the battery wires into this body, which flexes it on whichever side the battery protrudes from.  It's a tight fit, but it works.