JM decided not to go to Cold Wars this year, but luckily Mike Kaizar did. It's always more fun to go to a convention with a friend, even when there are more friends waiting for you when you get there. He drove from Columbus to Pittsburgh, and we left late enough that we got to Lancaster at 8 or 9pm.
BBDBA Doubles
First thing on Friday Morning, as usual, was BBDBA Doubles. This was the first time Mike and I have partnered for BBDBA, and it went quite well overall. I hope Mike keeps coming out to more conventions in the future; I'd happily partner with him again.
This was the first BBDBA event I've played in that had a historical theme: Medieval Europe. We took my recently finished Early Hungarian army. I filled out the third army by building a morph army out of my Germans, Early Russians, and other random figures. Many of the figures were identical except for the paint job, so they matched well.
I've wanted this army for a long time, and was very interested to try it in BBDBA. For the Ax/Bw option, I would ordinarily have chosen all Auxilia. However, since this was BBDBA with a Medieval Europe theme, I expected to see relatively little bad going (except when playing against The Davids), and a substantial number of bows in our enemies' armies. I decided to take 3x3Ax, 3x3Bw. In retrospect, I'm not sure if that was the best choice or not. 3 bows wasn't as many as bow-heavy armies had, so it may have been better to take all bows or all auxilia.
Early Hungarians vs. Two Davids playing Feudal English with Welsh ally.
In the first round, we faced Two Davids: David Kuijt and David Schlanger. They were playing Feudal English with a Welsh ally. We ended up as the attackers, and as I expected, we saw a good amount of terrain.
In this game, our command structure used three combined arms commands, with elements shifted around to get good break points and PIP management.
High PIP, 13 el, BP 5: 2xKn(Gen), 2xCv, 5xLH, 3xSp, 1xPs.
Mid PIP, 13 el, BP 5: 2xKn(CinC), 1xCv, 3xLH, 3xSp, 3xAx, 1xPs.
Low PIP, 10 el, BP 4: 2xKn(Gen), 1xLH, 3xSp, 3xBw, 1xPs.
The Davids had one large English command and one tiny one: their C-in-C had 3xKn, 1xCv, and 4xHd, which they taped in place around their camp. This meant that they could attack with their C-in-C command's mounted, and they'd have to lose 3/4 of its elements in order to break. It made it easy for them to combine two or 3 commands against one of ours, and its small size made it hard to reach and even harder to gang up on.
Our commands worked quite well, but unfortunately our attack didn't succeed quickly enough to win. It ended up fairly close: we lost 25-75. It was a good matchup and a fun game; a great way to start the convention.
Early Hungarians vs. Comedy and Tragedy playing Low Countries.
In the second game, we faced Comedy and Tragedy: Spencer and Christina Ginder. They were playing Low Countries: a pike army (with knights). Their forces were less mobile than ours, so they had terrain on the board again. That was satisfying, but also made me question whether this army composition for Hungarians actually wants very much terrain.
In deciding what command structure to use here, I considered how Spencer might use his pikes. Many players combine their pikes into a single huge block, give it the low PIP die, and sit it on defense. Some build a single large pike block but spread it across two commands so they can attack with it. Others maintain several separate combined arms commands.
Large blocks of pike are hard to break but easy to avoid, and they're easier to use effectively. Combined arms is more flexible, but more difficult to use and easier to break by killing things other than the pike. We decided to build a very mobile force that would be able to quickly and easily outflank a large block of pike, if they brought one to the field. Our main force would follow up to pin their line in place, preventing them from effectively turning to face our flank attack. Our approximate command breakdown:
High PIP, 10 el, BP 4: 3xCv (Gen), 7xLH.
Medium PIP, 16 el, BP 6: 4xKn (CinC), 1xLH, 6xSp, 2xPs, 3xAx.
Low PIP, 10 el, BP 4: 3xSp (Gen), 3xBw, 1xPs, 2xKn, 1xLH.
It turned out the Ginders decided to use multiple combined arms commands, but we maintained our plan: a fast flank attack where we intended to win, and a slower frontal press where we hoped not to lose. They deployed with a gap in their line for flexibility, but unfortunately couldn't use their third command to both fill the gap and protect their flank effectively. This stretched their command radius to its maximum. Their combined arms commands had pike and knights interleaved, making it difficult to get optimal local matchups.
Our left flank attack arrived quickly, but took a long time to become effective. We tied up a larger number of the enemy's troops with my smaller mobile command, but unfortunately our high PIP die was committed to that use alone. In the mean time, we started winning more quickly elsewhere. In the end, the battle didn't go as we had planned, but we did win 92-8, so I have no complaints.
The lesson we learned here is that you really don't need a very large flanking force to be effective, if you can truly get around the enemy's flank; but you do need a lot of time if you're using resilient weak forces (LH) versus a stronger enemy who can't kill you (Pk). The terrain made it difficult to support our flank attack effectively, since we didn't have any bad going troops in the attacking command.
Early Hungarians vs. Doug Austin's Condotta with Swiss ally.
The third game was the first time we rolled low enough to defend and place terrain. Early Hungarians are Steppe, not arable, so we placed a bunch of small bits of rough and a few hills.
Our command split was the same as in the first game. We placed our Mid and Low PIP commands first, with a gap between them so we could wheel them both to the right or left depending on our needs. Unfortunately, our terrain was offset to the left a bit farther than we'd prefer, leaving little space to deploy our third command on that side. This made our third deployment possibly a bit too obvious.
Doug deployed to overlap our line on both ends, as expected; and we deployed our third command on our right flank, also as expected. This left us with a lot of room to outflank him on our right, but he overlapped us on our left.
Doug quickly second-guessed his deployment, and decided he needed more troops on his left (our right) flank. He started spending PIPs to redeploy knights from his right to his left behind his line, as he advanced slowly and we tried to press on as quickly as possible.
We had the early game advantage due to the PIPs he was spending on redeployment and having his troops out of command. I broke his command on our right flank, but unfortunately I was too aggressive with my CinC command, and ended up suffering losses where I should have just been holding the line and waiting for my right flank to keep winning. We started losing elements on our left flank, and eventually lost enough elements in our CinC for it to break. It was a good game, but we lost 16-84.
My first goal for BBDBA was to win a game, and I accomplished that with JM several conventions ago. After that game, my second goal was to finish with at least 100 points. We achieved that in this tournament, after a strong win and two losses that actually gave us points. BBDBA Doubles is one of the highlights of every convention, now that I'm competent enough to feel like I have a chance of succeeding in most of the games.
Quad Themes
Friday night was Roland Fricke's Quad Themes event. There were 4 rounds, each played with a different army from a different historical theme. At this point I was fairly fried, so I'll just give a rundown of the results.
In round 1, I played Early Egyptians (I/2a) and beat Mark Pozniak's Nubians, 6-5. Next, I played Later Achaemenid Persians, and beat Dick Pagano's Macedonian Successors 4-1. In the third round, Rich "Diceman" Baier's Later Imperial Romans (East) beat my Ancient Brits 4-2. I got to play Mike Kaizar in the last round, but it was a poor matchup for him: my knight-heavy Feudal Spanish faced his blade and raider Vikings. He won anyway, with a 1g-0 victory in one of the first rounds of combat.
Alexander the Great Theme
On Saturday morning, we were forced to get up way too early, for Mark Pozniak's 8am event: an Alexander the Great theme. I brought Later Achaemenid Persians, and lost all my games. I didn't write down my opponents' armies, unfortunately. Mike Guth beat me 2C-0. Bill Fisher beat me 4-2. Kristy Faux beat me 4-3.
Unification War: Rise of the Son of Heaven
On Saturday afternoon, I ran a Pyramid format event with a Warring States Chinese theme. We used Limited Attrition rules as described on the
Buttocks of Death Wiki
.
Warring States Pyramid, final round of 4-on-4.
We had two new, young DBA players: Otto, Dave Schlanger's son, and his friend BJ. They had a lot of fun, and I expect to see them playing DBA at more events in the future.
The Commanders in Chief in the final round were Otto leading his Chu empire against David Kuijt's Qin empire.
These 4-on-4 games usually end up being more like several 1-on-1 games next to each other, rather than having as much interaction between commands as you have in BBDBA, but they are still quite fun; and that's the real point in the end anyway. Everyone seemed to enjoy the Pyramid format, and the limited attrition rules worked very well, as they did at last year's Cold Wars. I think I prefer running Pyramid events rather than Matched Pairs. I like having fixed signups and a tighter historical theme, and it's easier to handle the matchups when the pyramid is constructed before the event starts.
Two Davids Campaign: Recovering Byzantium
The real reason I had to paint Early Hungarians before this convention was the Two Davids campaign event: Recovering Byzantium. The campaign was centered around Byzantine states in 1230AD, and Hungary was on the outskirts.
In the first round, John Manning attacked me with his Byzantine army, and I lost 3-4. Not a great start, but that's okay. In the second round, Jack Sheriff's Syrians attacked me and I beat them. Next, I attacked Mark Burton and failed to capture a vassal.
In the final round, I had a high number, and I was surprised to be allowed to attack someone again. When my number came up there were 4 of us left. I attacked Dave Schlanger, and beat him; acquiring a vassal.
After the fourth round there was a bit of an incident… I won't go over the details, but you'll never fail to remember it if you were there. It pretty much put an end to peoples' enthusiasm for a fifth round.
I still enjoy the campaign events. I think overall, I enjoy events with a very strict army list best, because they provide me with the most motivation to paint more interesting armies.
Hordes of the Things Open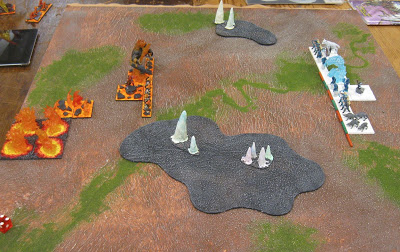 Hordes of the Things: Fire vs. Ice played by BJ.
On Sunday morning, Mike met his parents for breakfast and I played Hordes of the Things. I brought my
Die in a Fire
army.
For this event, my composition was: Mg (gen), Beh, Drg, 3xBd, 2xFly, 2xLrk.
In the first round, I faced BJ's Ice elemental army. Unfortunately we didn't get to use the pretty elemental terrain board. I lost 8-12g.
Next I faced Otto's Slaad demon army: basically giant lizard demons. I beat him 6g-2.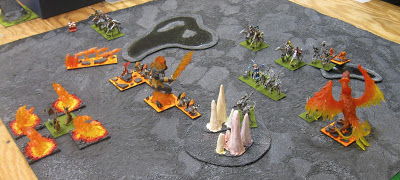 Hordes of the Things: Fire vs. Rick Wynn's Wild Hunt of Faerie.
In the final round, my fire elementals faced Rick Wynn's Wild Hunt of Faerie (Oberon, Titania Elves) army. Rick's army was beautiful, built mostly out of Games Workshop plastics. He did a wonderful job of building an exactly 24 point army with a very specific theme.
After a bit of posturing, our magicians made it into range of each other. I decided to try to ensorcel his general with mine on the first turn I had a chance, because he had two magicians and could get a better shot against me if I waited. This turned out to be a tied roll, the only result that didn't end up with one of us losing instantly.
In the next round Oberon returned the favor, with Titania's help, instead of ensorcelling with Titania and having Oberon help. Despite his better combat factors, I rolled high enough to beat him and pull the instant win: 4g-0.
This was the first time I had used a Dragon in HOTT. I have mixed opinions about it at this point; it's powerful and looks cool, but it's also easy to lose and you don't get any overlap support from friendly elements. I think the key might be to use it with fliers who can provide flank and rear support more easily.
It turns out that after my two wins and favorable loss, I ended up tied for first place with BJ. Since he beat me, he won the event overall. Congratulations, and I hope to see you back for more games!
It was another great convention, and I'm glad I went. I won't be making it to Historicon, but I look forward to more great conventions in the future.