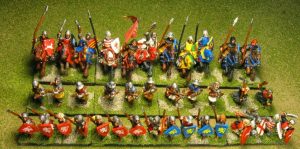 DBA army III/62b: Early Polish; 25mm figures.
"Since when do you play 25's?"
"Why are you playing 25mm?"
I've gotten a lot of heckling from my friends, but the explanation is simple: at Fall-In 2013, there is nothing else going on during the 25mm tournament, and I'm not going to use up my whole Saturday without playing anything before the campaign event.  If I did that, I'd only go buy things.
So, I built a 25mm army from figures I had on hand.  I didn't paint this army, I bought the figures already painted.  I only touched them up, applied some ink, and based them.  They're brighter than they'd be if I painted them, but I didn't have to put the effort in, which is fine with me.  I'll save my limited 25mm painting for HotT armies.