It used to be that electronic devices were printed with the warning, "No user serviceable parts inside." That was never true, and it still isn't. They've stopped printing this on most devices, but not because it isn't true.
Instead, they've eliminated any obvious way to disassemble the device. This prevents people from hurting themselves if they're skilled enough to use a screwdriver, but not skilled enough to avoid shorting a capacitor and blowing themselves up. Luckily, it doesn't prevent people from learning how to repair things themselves.
Ezra's hand-me-down iPod had a failing battery. Instead of buying a new one, or paying to have the battery replaced, we got him a battery replacement kit for Christmas, and shared the experience of disassembling and repairing the device.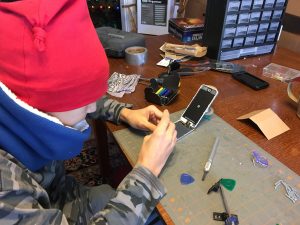 The procedure went smoothly, but not perfectly. Unfortunately the home button did not function after we were finished with it, but Ezra wasn't bothered by this, since he already uses an on-screen home button. He declined my offer to order another replacement part, and now he knows what the inside of an iPod looks like.