A somewhat belated update: I finished the stool.
I applied maybe 3 or 4 coats of the Salem Red milk paint, but as I usually find with with red paint, it still didn't cover perfectly. I decided that if I wanted perfect coverage I should've just used a can of Rustoleum. Actually… although impatience did enter into the equation, I also decided this looked Good Enough. Since "better is the enemy of good," I stopped.
After the paint, I applied 2 coats of Minwax wipe-on poly finish. This changed the color from a completely flat pinkish color, to the deeper red seen here. This is the first time I've used the wipe-on polyurethane instead of a Watco danish oil finish. I like the results: it has a bit of sheen, but not too much, even in the places which haven't been worn smooth by sitting yet.
The color looks fine from a distance, and "interesting" close up. The paint is slightly transparent, and shows the brown stain underneath in places. As it wears, I expect this will become more apparent, but also more interesting.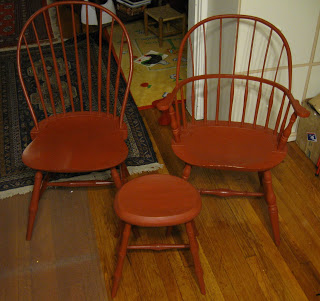 Truthfully, this is a practice stool, and it will most likely end up in the basement, if the natural walnut stool turns out as well as I hope it will.
The next image is a family picture. Moving counterlockwise from the upper right, there's the Sack Back chair I made in 1998 in a class I took with my dad at the Windsor Institute; the Bow Back chair I made in a class run by Brian Cunfer in Lancaster in 2007; and the stool I just finished by myself in my own shop.
I like them all for different reasons. I'm most interested in making chairs we'll use, not just decorations. This is a "large" hobby, and we don't have a lot of space for chairs we aren't using; but I have no interest in selling them, either. That would be too much like a job, and I already have a job I like. So, I'll have to either start making some more chairs of the same pattern, or live with the fact that I'll never have a matching set.
My hobbies run in cycles (a topic for another blog post), but my hope is that my interest in chairmaking will last at least until I can complete the walnut stool, and hopefully long enough to build one of Peter Galbert's perches.
In the slightly longer term, I anticipate building another actual chair. That would require tools and supplies I don't have yet. Mainly, I would need very straight stock, preferrably oak, to split into spindles and bows for the back, and a steam box for bending the curved parts. Bending wood is quite fun, when it doesn't break.
I'm considering starting with a rodback chair, because it has only one relatively small bent part in the back. This wouldn't match any of my other chairs, of course. And, it would require a pattern, which I don't have. However, I bought a very good book by John Kassay with measured drawings, which I think I could make a suitable pattern from.
But this is getting ahead of myself a bit. In the mean time, a few other small updates:
I found some more logs. I'm pretty sure these are Cherry. They're quite wide, over a foot, but only 18-20″ long. I'm not yet sure what I'll use them for.
I also found some very nice, but very large logs: perfectly straight, 2'+ diameter and 4'+ long. I have no way to lift them, let alone get them home. I'm considering how I might split them enough to carry eighths home, without anyone raising a fuss.
We've been having problems with our DSL download speeds, so I connected our modem directly to the NID in the basement with a short cord. This instantly doubled our download speeds: our "internal" wiring was the problem. Now I'll have to wire some outlets into the basement ceiling and find a place to put a server.
I have a new batch of beer in the works; the recipe will come after it's ready to drink.
Have fun!