Last weekend, I finished the perch.
I painted it with one coat of Real Milk Paint's new Butternut Squash color, followed by 3 coats of Mustard. I also used their anti-foam agent, and it made a big difference in reducing foam and generally making the paint easier to apply.
I think with milk paint, once it looks almost good enough, it's time to stop: "better is the enemy of good." Whenever I add "just one more thin coat in the spots that need it" I end up worse off, and have to smooth things out more than I'd prefer. Maybe it just doesn't work to apply the paint when it's too watered down.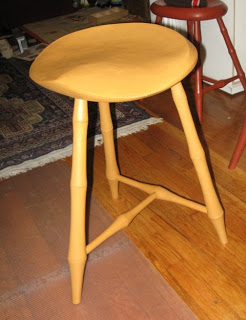 After the paint, I applied 2 coats of Minwax wipe-on poly, as usual. In the picture above you can see what a big difference it makes to the color. I'm quite happy with the final color. The dark parts of the first image are more representative of the color than the washed out second image. I think the Squash undercoat made it darker overall, but luckily the yellow covered it enough, because they didn't seem to go well together.
Marla's initial reaction to the seating position wasn't very favorable. It's quite a bit higher than the other stools she has been sitting on, and it pitched her forward more than she'd prefer. I sat on it, and found myself sliding down the seat too much; maybe the poly wasn't the best finish for this?
I trimmed the rear legs off by about an inch, but we're not sure yet whether this will be the final position. Hopefully we'll stop trimming before we reach the stretchers. I think to a certain extent, her desk ought to be raised up a bit, because we previously had it adjusted for a lower seating position. Luckily it is very adjustable, if we're willing to clear it off.
This was a really fun stool to build. Everything went well, and I didn't make any major mistakes, but it was also different from the other chairs and stools I've made.