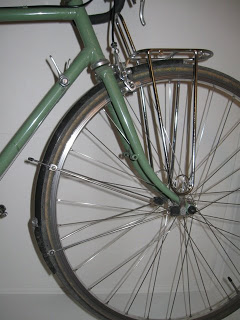 "Yep… That went well."
Same deal, different wheel.
I got another stick stuck while riding home from work through the park, this time in my front wheel. Now I have a pair of broken fenders. I'm going to go order another pair or maybe two, after I'm finished here.
The quick release worked well. The fender stay bent and the fender broke in one place (instead of two), but the quick release released, and it didn't even really stop me, let alone send me over the handlebars. Apparently I forgot to knock on wood after saying I didn't want to test the quick release fender stays.
After breaking the rear fender, I realized I need a rear fender, because I need something to keep my leather saddle dry. I transplanted the wider rear fender from my blue bike, cringing the whole time at the mismatched pair, I'm sorry to say. It fit well enough, but it's completely unsatisfying.
I'm going to get a pair of the Velo-Orange aluminum fenders. Solid aluminum fenders are longer, lighter, and stronger than the "alumiplast" laminated fenders I have. They won't crumple the way these do, when a stick gets stuck. As an added benefit, the VO fenders are long enough in the front that I can do without a mudflap, and I might even be able to learn Yehuda's trick.
In the mean time, I hope it doesn't rain. Wait, isn't it supposed to rain tomorrow? sigh…