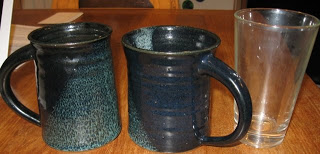 Dee got my "It Comes in Pints?" reference, so I thought I'd post a picture of my "It Comes in Pints?" mugs.
For those of you not familiar with this quote, it's one of my favorite lines from The Lord of the Rings: Fellowship of the Ring. After entering a human Inn for the first time ever, Merry, Pippin, and Frodo sit down for a few beers.
Pippin: "What's that!?"
Merry: "This, my friend, is a pint."
Pippin: "It comes in pints? I'm getting one!"
My sister Sarah is a potter, so a few years back I asked for an "It comes in pints" mug, inspired by the ones they used in the movie. The mugs above are what she came up with (the pint mug is shown for size comparison). They fit a pint with room for head (which is generally hefty on my home brews).
Thanks, Sarah!