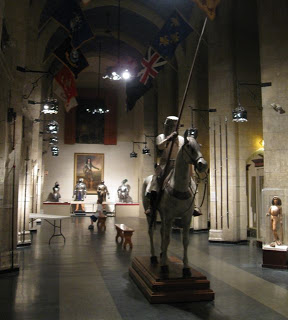 There is a hidden treasure in Worcester, MA: the Higgins Armory Museum [Update: Now closed; bummer]. I've wanted to go here the last few times I've visisted my parents in New Hampshire, but never got around to it. This time around, we made it a priority.
The Higgins Armory holds the second largest largest collection of Medieval/Renaissance arms and armor in North America, and it's the only museum here which is dedicated to these arms and armor.
Mister Higgins was obsessed with steel fabrication, and founded a pressed steel manufacturing company. This venture made him rich enough to start buying up suits of armor. Eventually he had enough pieces to dedicate a building to their preservation, and the museum was born.
The museum has a great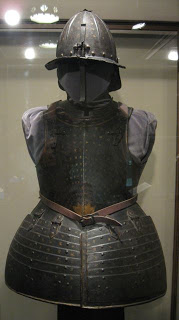 collection of arms and armor, primarily from the "Knights in Shining Armor" period. Interpreters are quick to point out that the period when full plate armor was used was relatively brief: a few centuries in the late Medieval period and beginning of the Renaissance, in Europe.
They have examples of several main categories of plate armor. Field armor is articulated, and provides full coverage without hampering movement during battles. Tournament armor was used for sporting events such as jousting. It was much heavier, and provided superior protection but only the minimum mobility required. Parade armor was light weight and provided almost no real protection. It was used mainly for decorative purposes and bragging rights. They also have a variety of weapons used by fighters wearing plate armor, and weapons used against fully armored combatants.
The Higgins Armory's strength also reveals its weakness. Plate armor was used during a very short pe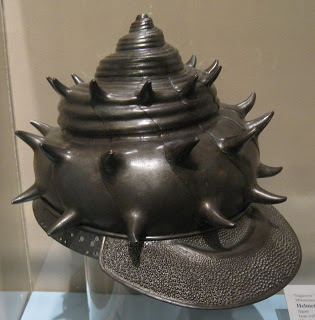 riod in a very small part of the world, and the museum mostly ignores weapons and armor used in other periods of time and/or outside europe. They have a few samples of ancient and pre-medieval arms and armor, but nothing substantial. They have only one suit of Japanese samurai armor, but they do have a very interesting helmet patterned after a seashell.
Even in Europe during the late Medieval period, full plate armor was reserved for the rich elite troops. Most combatants were extremely lucky if they got brigandine coats or mail armor. There were a few token pieces of brigandine and mail, but it was obvious that Higgins was most interested in armor which might be reproduced using his pressed steel construction techniques.
Overall, I'm glad I went to the Higgins Armory. Unfortunately I expect "all the rest of the armor" is much less well preserved, even traditional Samurai armor. It's probably best to live with reconstructions and illustrations for older types of armor, and to go to Higgins if you're interested in full plate armor.