Last week in New Hampshire, I borrowed my dad's bike to go for a 14 or so mile ride to Silver Lake and back, early in the week. It was comfortable enough, but I wouldn't have wanted to ride much farther on that saddle. The bike was a bit too small for me, but I could manage.
Then, I went to the "bike shop" around the corner. This is basically a big tent in a guy's driveway, with 50 or so used bikes lined up under it. He does repairs and sells parts out of his ancient garage/barn.
I walked up and down the rows of bikes a few times. Half of them are kids bikes, and half of the rest of them are mountain bikes. Within the selection of road bikes, most were heavy old indestructable monsters by Columbia, Schwinn, Ross, Huffy, and so on. And then there were a few more interesting bikes. A bike boom Gitane? Nah, you can't get any replacement parts for French bikes. The Univega looked interesting: most of them were made by Panasonic or Miyata in those days.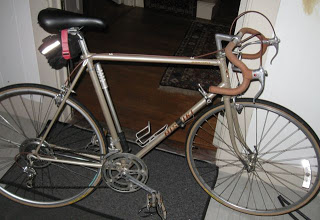 Then I saw the Nishiki International. It has pretty, fancy lugs, and uses double butted chrome moly tubing so it's fairly light: probably lighter than the frames I ride here in Pittsburgh. All the parts are aluminum, and relatiely high quality for the time (though not all original). The Suntour Cyclone rear derailer was one of the best available in its heyday, from a performance perspective (but you could easily spend three times as much if you needed the Campagnolo name brand and inferior shifting). The Suntour Power Shifters are smooth and work well.
Maybe I'm just used to city Craigslist prices, but it was a good price for the bike. After doing a bit of research on the component manufacture dates on the Vintage Trek web site, and decoding the serial number in a guide I found online, I determined it's a 1980 model.
Why do I need another bike? Actually, I don't need one at all, I'm happy to admit, but that doesn't mean I don't want any more. I'll use it when I'm in New Hampshire, and I enjoy it. At least it wasn't something new, and it's not that expensive all things considered: the price of filling a tank with gas a few times, these days.