Neldoreth started a thread on the Fanaticus forums about the workspace we use for painting miniatures.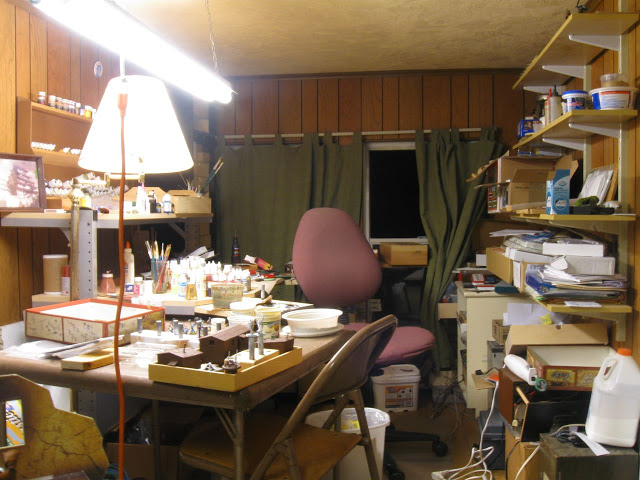 My main workspace for painting miniatures and other modelling work is a nook in our attic dormer: probably 7'x8′ and 6′ high. I use the rest of the attic for gaming space and general storage.
Points of interest in the first image include:
My paint shaker: a converted electric knife
O scale model railroad buildings destined for use as Malifaux terrain
Games Workshop boxes are good at catching excess flocking material
Elmer's glue by the gallon? I may as well buy a horse.
Yes, there are other hobbies stored on the shelves.
The card table provides supplemental horizontal surface area, as well as a workspace when friends come over to paint and watch crappy movies.
Crayola Model Magic! It's excellent for building hills and other terrain features out of a flexible, moldable 3D material.
It's probably obvious that I lean towards the "a clean house is the sign of a misspent life" school of thought. When I organize my workspace, it is almost always as I'm planning or about to start a new project, and not when I'm finished with the previous one. Organizing my workspace and organizing my plans for the next project go hand-in-hand. If I don't need to put much thought into the next project, I also tend not to put much effort into preparing my workspace for its execution.
In the second photo:
This is an Ikea Jerker desk, one of the best computer desks made by man. With independent height adjustment for the keyboard and monitor, this desk provided the best ergonomics available to mere mortals. Luckily, with my adoption of a laptop and console gaming, I don't need it for programming or gaming anymore. The only downside of the Jerker is its lack of drawers.
Although I built a paint rack from MDF and pine, I obviously don't use it as much as I could. I'd benefit from a table top model instead of putting it against the back wall.
The only projects visible here are either not mine, or haven't been worked on in years.
Yes, I use inexpensive brushes in high volume, except for a few "special" brushes.
Craft paint is fine for terrain, grey, and black. Modern GW washes and Didi's Magic Ink are good for shadows. Other than that, I use Vallejo paints almost exclusively.
Yes, I have piles of unpainted figures. The fact that you can't see them is a good thing.
There you have it! They aren't the tools of the trade, because this is no trade. They're the tools of fun!