Saturday afternoon was the Open Scramble format tournament. I thoroughly enjoyed this event and look forward to playing a similar event again.
The Scramble format is interesting and different, but like Matched Pairs, you have to be willing to let other players touch your army. In the first round, each player gets a random army from one of the other players, and is matched against a random enemy. Players were required to select specific terrain pieces to be used in all rounds as well. In the second round, winning armies are matched with losing players, but no player can use their own army. In the last round, each player uses their own army.
The organizers of this event decided to use a timer to ensure the rounds were all exactly one hour long. I liked this official time keeping, but probably only because my games weren't too long.
I brought two "beater armies" for JM and I to use. These are built primarily from the "old school" Carthaginians I bought at Historicon, and since I didn't paint them and they're already mostly damaged, I didn't mind if anyone else used them. I let JM use Gauls (II/11), which I was saving for the Gallic Wars event, and I used Later Carthaginians (II/32) without any elephants, and with 2x3Wb, 1x2Ps for the other option.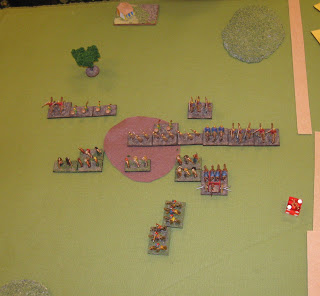 In the first round, I ended up with JM's Gauls, and I was matched against Jason Bostwick, using Later Achaemenid Persians (II/7) with the all-Auxilia option and a scythed chariot.
This game was over quickly. Once again I was crushed by an invincible Scythed Chariot. Jason flanked me and rolled up my line, winning 4g-0 (as shown on the right).
Our results were so skewed that we predicted I'd end up with Jason's army from the first round, and he'd play with mine; and that's just what happened.
In the second round, I played Later Achaemenid Persians against JM, who had some kind of Crusaders… early, perhaps? "I came all this way to play against you?"
He defended and set up terrain. I ended up with a large wood on one flank, and he set up in a line to avoid it. I set up on my left flank, intending to use the woods as a highway for my light foot, and sweep around his flank on my left while denying his right flank.
This is exactly what happened. It was a long, hard fought battle, and early on I lost many combats that were statistically in my favor; including losing the scythed chariot almost immediately. Eventually my luck turned and I killed enough elements to win. Neither of us remember the final score or have pictures of it, unfortunately, but we know the organizers' notes were incorrect.
In the final round, I fought against Zenboy, aka Michael Downey. I had my Later Carthaginians, and Zenboy played his Later Achaemenid Persians. He defended, and placed a wood on one side with two gentle hills and a road that played no effect in the game.
This was a much more straightforward fight than the previous one: we stood in a line and walked straight forward, both of us happy with the element-to-element matchups we had. Zenboy lost his Scythed Chariot early on against my psiloi, and it was all downhill from there. Judging by the final photo at the right, I ended up losing only one light horse, and he lost 5 (since the SCh didn't count towards victory).
The most interesting part of the game was when I used my warband against his psiloi-supported auxilia. I used one warband to turn the psiloi out of supporting position, and attacked with the front warband first. He killed the auxilia, and then advanced into flank support position for the second combat against his psiloi, which also died. I learned something; maybe next time I'll be able to set that one up on purpose 🙂
I really enjoyed this event, despite the fact that every round I played with or against an army I brought, and only one army in one game was an army I don't own. All my opponents were fun to play with, and I learned some tangible lessons. I like the balancing factor provided by people playing with armies other than their own. I'd like to play another scramble format event, but next time I hope I get to play with some new and intresting armies.