In response to a recent question from a Fanaticus forum reader, here's my take on the Terrainguy brown-green gaming mats. I've included photographs from a few recent blog posts that show m brown-green mats in action.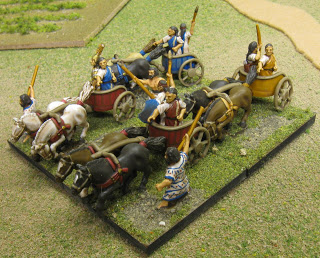 Close-up of Terrainguy brown-green mat.
For comparison, the bases are flocked with
Woodland Scenics Fine Turf and sand.
A view of a 4'x6′ green-brown mat.
These mats are available in a variety of colors and sizes. I have a 4'x6′ mat and a 30″ DBA mat in brown-green, and I'm very happy with both of them.
This is the best looking flocked gaming mat I've seen so far, but I know of a few I haven't seen in person. The flocking material is not static grass, it's more like the Woodland Scenics "fine turf," made of very fine ground foam. The mat itself is made of canvas with a rubberized material on the surface that holds the flock in place. Mine aren't old enough or well-travelled enough to know how well the flock holds up to heavy use, but I haven't had any problems so far.
For storage and travel, I roll the mat. I would not recommend folding it, I would expect it to get permanent creases. They're flexible and roll easily. They hold a slight curl when you unroll them, but they're easy to flatten out.
Overall I'm happy with these for the price I paid, and I'd definitely buy another one if I need any more mats. The larger mats often go on sale, but the DBA mats seem to always be full price. The DBA mats are in a different section of the web site, making them harder to find in the color you want, but all of the colors are available for DBA sized mats as well as the larger mats.