In order to morph my Hindu Indian III/10c: Other army into Hindu Indian III/10b: Rajput, I needed at least one knight and an extra blade. We also needed a LH general for the Mountain Indians at Cold Wars. So, I painted some more Indians.
Essex Rajput Knights
Here is the Rajput knight. These are Essex figures from their Moghul Indian range. They match some of the cavalry figures from my existing Hindu Indian army, except they have armored horses. I used a bit more interesting colors than on the rest of the Hindu Indians, which is probably a bit more accurate.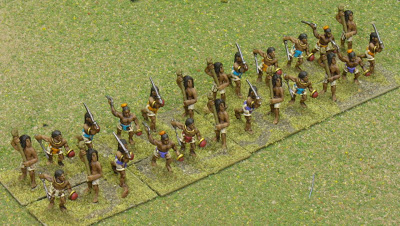 Indian Blades: Outpost and Museum miniatures
Since I needed one more element of blade, I decided to paint all of them. This allows me to morph my Hindu Indians into Tamil Indians II/42b, and gives me a head start on a double Hindu/Tamil army. Most of these figures are from the Outpost Tamil/Hindu Indian line. The sculpting is detailed, but not very deep. There are 3-4 different poses, all with a sword and a small buckler.
The club-wielding half giants with bad hair are from Museum Miniatures. I like most of Museum's Indian figures, but these guys are just ugly. The sculpting is adequate with deepset features, but the single pose is pretty bad. They're taller than the Outpost figures, as well as some of the other Museum Indians.
Museum Indian Light Horse general
The Light Horse general is also from Museum Miniatures, and was a part of their Mountain Indian army pack. These light cavalry figures have only a single pose, and like all Museum cavalry I've seen, they're cast in a single piece. These aren't my favorite figures from the Indian line; I much prefer their bow and spear infantry.
The army pack didn't come with any way to distinguish the General stand, so I painted the horses white. I've started painting white horses by starting with grey and bringing the highlights up towards "almost white." It gives a bit of a greyish look, but I like it better than the results I get by washing a white horse.
To finish a second Hindu/Tamil Indian army, I now need to paint a bunch of bowmen, some elephants, and some cavalry. I should probably paint some more knights for the Rajput as well, eventually. I find that Indian infantry goes really quickly, so I've already prepared the bowmen for painting. I don't have any deadline or goals in mind for the Indians, so I'll just fit them in when I have time and motivation.