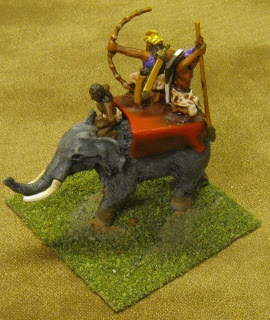 This elephant came as a part of a DBA army pack, and was labelled as a Museum Miniatures 15mm elephant IE15: C In C On Elephant Elephant/Howdah/Crew Umbrella. However, it looks identical to the image on the Museum Miniatures site of IE10: Indian Elephant Howdah Mahout, Archer Javelin.
It did come with the top part of an umbrella, but there was no obvious place to mount it, so I left it off. The crew is the same as on the IE10: a driver; a kneeling archer, identical to a ground archer; and a kneeling, thrusting spearman.
If I remember correctly, the elephant itself is a single part casting. It isn't as tall as the Essex elephants, but it's longer front-to-back. The howdah is a separate part, and the crew are also separate. There's no blanket or any other covering under the howdah.


These are nice looking castings with a good skin texture that is easy to paint. The pose is very animated and a lot less lethargic looking than the Essex selections, but the elephant doesn't look very warlike.
Here's an image comparing the Museum elephant, on the left, with an Essex MEPA23 on the right.

Update: Edited to change "IE16" to "IE15" after I looked at the actual bag it came in…