Before we went to bed on Friday, we made sure we knew what time Saturday's events started.
Embattled Isles
The first event on Saturday was an excellent set of themed games arranged by the Davids. They built 7 scenarios that all took place in England over a long span of time. The battles chronicled successive waves of invaders taking control of England and then defending against the next invading army. Each battle had preset terrain and army deployments, and some had special rules. Unfortunately, we only had enough players to play 5 of the 7 scenarios.
I enjoyed this format immensely, but it must have taken a lot of work to arrange. The huge win here is that all metagame concerns are completely gone, so players are evaluated based on their ability to command in a variety of situations they don't have complete control over. Defenders and invaders had separate winners, ensuring that any scenario unbalance was compensated for in the results.
In the end, the top three on our (defending) side went 3-2, and I ended up in the middle of the pack (worst of the best) based on points.
The shortened event left us with too much time to spend money in the flea market and dealer's hall as the snow piled up outside. At some point during the weekend, possibly between these two events, I got in a few pickup games with Jeff Franz and Jan Spoor.
Viking Fury
In recent years, the highlight of every HMGS-E convention has been the themed campaign event run by (you guessed it) the Davids on Saturday night. This year's theme was Viking Fury: the Viking invasion of England and Ireland. I played one of the Viking players: Ivar the Boneless. Unfortunately JM, aka "Ragnar Shaggybreeches," wasn't around for me to blame him for my name (Ragnar was Ivar's father, but he's still not sure who the mother is).
Chris's Picts are taken from behind.
In the first round, I yelled "Waagh!" and ran forward, as all good Vikings should. "You guys approach his position from the woods, and we'll sail up from behind and surprise him.
Chris surrounds me, but not fast enough.
In the campaign turn, I landed on a space on the map that must be defended by either Chris Brantley or Jan Spoor, and took my chances. Chris defended with his Picts, placed a mandatory waterway, and ended up with it at his rear. Fortunately for me, he didn't anticipate my littoral landing. I boldly deployed my general with 3 supporting units behind his lines, and took his camp on the first turn. Luckily I had enough PIPs to run forward with the remainder of my force. The 3″ move for 3Bd (Raiders special rules for this campaign) definitely helped get my guys back into command.
After that, it was a matter of me killing two more of his units before he surrounded and destroyed me. I plowed forward in the center, while he spent PIPs to go around me on both flanks. In the end he completely surrounded me, but I was back in command and he had gotten out of command. He was almost within striking distance of my camp when I killed a second element and convinced these reasonable men to join my cause. Bitches!
Pushing David Kuijt back into the sea.
In the second round, I attacked David Kuijt, also a Viking who had claimed a landing spot on the campaign map.
He did anticipate the possibility of a littoral landing at his rear, and protected against it. However, through a combination of not making very many horribly bad mistakes, and rolling really well, I finally beat David, 4-2.
He ended up being my first vassal, since in the first round my victory only gained me a place to park my boats and set up camp.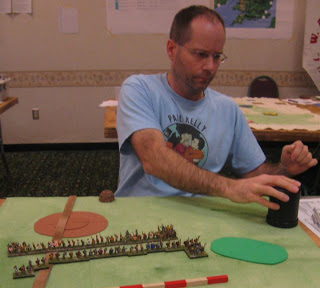 Nick Swales rolls me up.
In the third round, I had yet another chance to invade on the campaign map, and I attacked Nick Swales with a long line of spears. This was a fairly straightforward "line 'em up and roll high" sort of affair. Unfortunatly only one of us gets to roll high enough to win, and this time it was him. He poked a hole in my line where my warband had hoped to poke a hole in his, and beat me down with attrition in a 4-1 victory.
In the final round, Rich Baier attacked me to steal my growing vassal tree. Again we were both Vikings, so it should've been a fairly even match. And again, it was a straight line without much complicated maneuver involved. But this time, Diceman was on a winning streak. He didn't win with a few 6-1 splits, but instead he kept pushing me back with die rolls just good enough to beat me, consistantly over a long period. Eventually I had to die, and I did.
Diceman has a lucky streak
I was surprised by how much I enjoyed playing against Rich, because I had so many recoils that my combat factors were never horrible. I consistently felt like a good die roll was just around the corner; it just never came. I don't have notes regarding how badly he beat me, but I suspect it was 4-0. He went on to win the entire event, and I ended up in a multiway tie with the third most points.
I definitely have fun at these conventions, especially given how few opportunities I end up with to play DBA and HOTT outside the conventions. I know I'd play better if I played more often, but I'll take what I can get.
And now, to plan for Cold Wars. I need to get 48 points of "something HOTT" ready for a grudge match, and it's looking like it'll most likely be my Fire army. We'll see what other events pop up that will require more painting…
A hearty thanks to all of the game masters and the event coordinators!